Revel Surf Beach Grill to Serve Beachside Eats and Drinks at New Surf Park
Mesa's Revel Surf is under construction and will include its own bar and grill.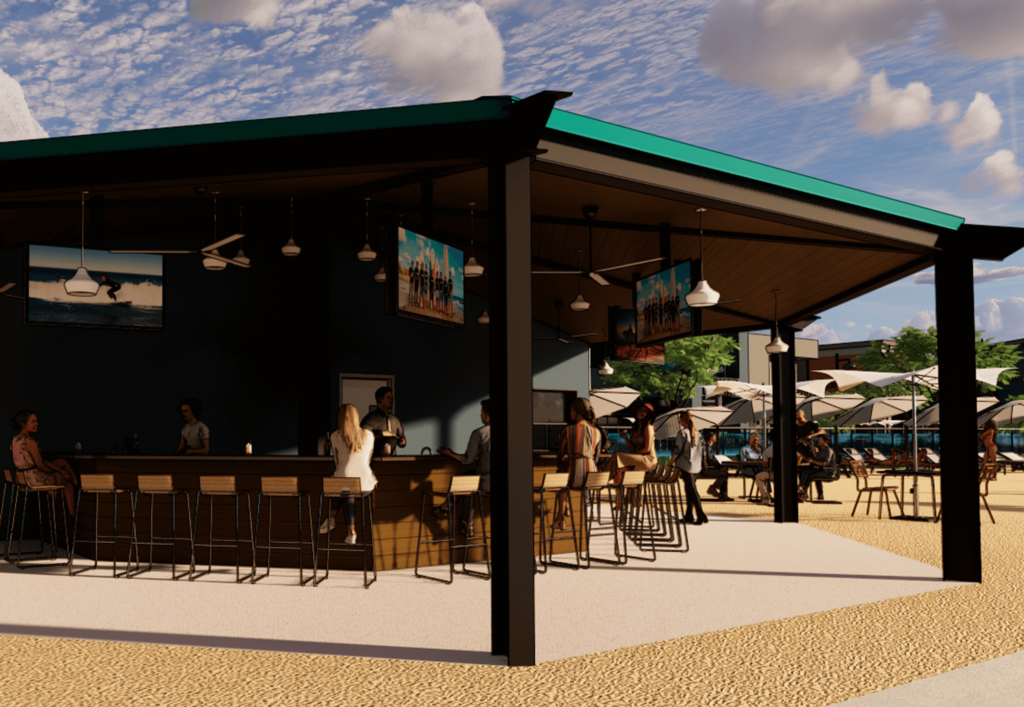 Revel Surf, Mesa's highly-anticipated 40-acre surf park, is currently under construction at Cannon Beach along Power Road. In addition to a two-acre surf lagoon by Swell MFG and a Unit Surf Pool stationary wave, Revel Surf will feature a variety of other amenities, including its own dedicated beachside bar and grill.
Revel Surf Beach Grill is also under construction along with the rest of the park. A revised permit record is currently under review with the city, noting a relocation of where this restaurant will be located within the facility. "The grill is now more like a restaurant and the main point of entry to the wave lagoon," the record states.
Renderings on Revel Surf's Instagram page show an open-air bar space with direct access to one of the surf pools. The rounded bar features plenty of seating, as well as television screens. Revel Surf Beach Grill is sure to be an excellent space to refuel after hours in the water, or simply as a place to hang out while your loved ones are having fun.
Other amenities at Revel Surf include a beach with sand, surround sound music, daily and nightly events, plus splash pads and water play for little ones. Revel Surf is part of a larger development at Cannon Beach, which will soon include a hotel, restaurants, retail, and office space. See the Revel Surf Visit page for more info.
Written by: Nadine Blanco